Discount Tickets
See here for discount train tickets.
SHIMATETSU FREE PASS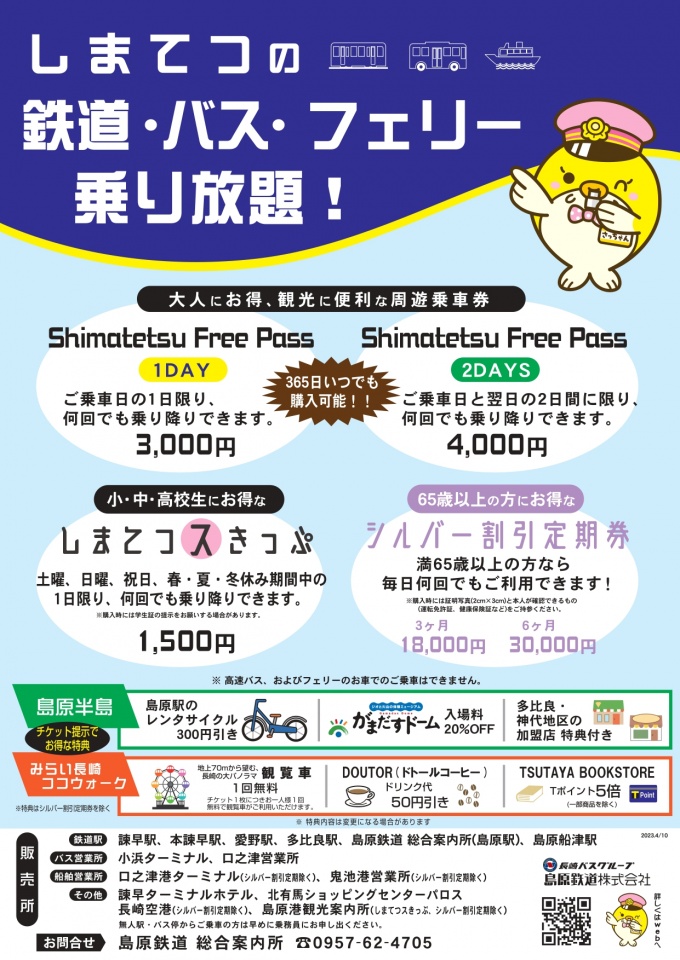 This is a very economical ticket that allows unlimited rides on Shimabara Railway trains, buses, and ferries for one day.
One-day and two-day tickets are available 365 days a year.
Tickets can be purchased at Shimabara Railway stations, bus and ferry offices, and onboard railroads and buses.
Please take advantage of this service when sightseeing on the Shimabara Peninsula.
Sumisaki ticket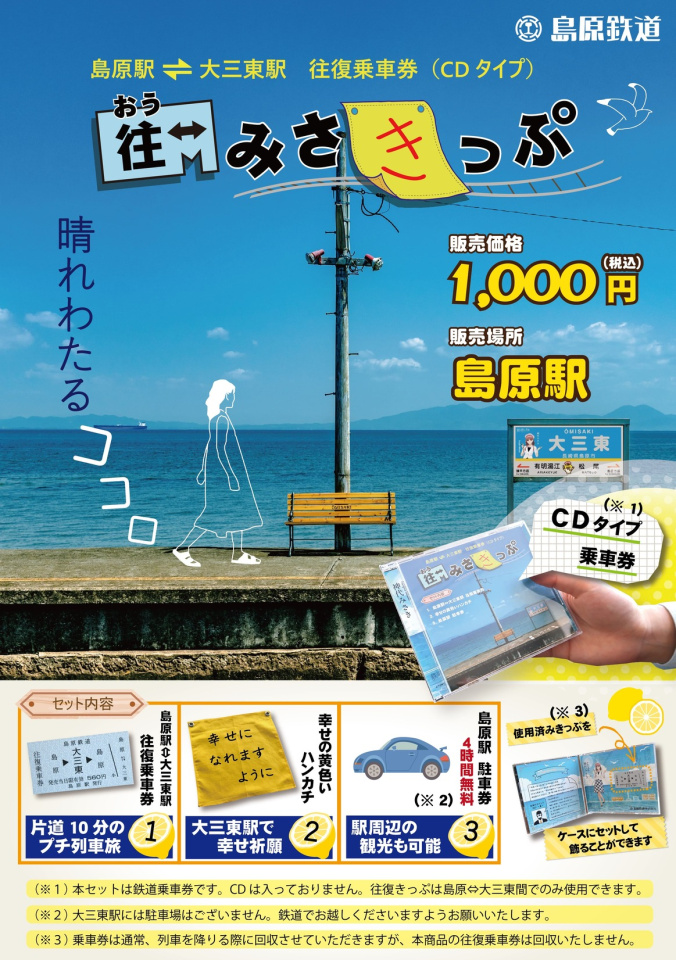 Thanks to the attention of many people as "the station closest to the sea in Japan" and "the station of the happy yellow handkerchief," Daisanto Station has attracted a great number of visitors.
We have prepared a very economical ticket set (in a CD case) that includes a round-trip ticket from Shimabara Station to Daisanto Station, a "Shiawase no Kiiroi Handkerchief" and a parking ticket that allows use of the Shimabara Station parking lot!
How about taking a short trip on the cute Shimatetsu train?
 
 Product Name  Oomisa Ticket
 Price 1,000 yen (tax included)
 Sales location Shimabara Station (only available at Shimabara Station)
 (1) Round-trip ticket from Shimabara Station to Omihigashi Station
 (2) A yellow handkerchief of happiness
 (3) Shimabara Station parking ticket (4 hours free)

The CD case can be opened to display the used round-trip ticket.
*The Shimabara Railway station parking lot at Daisanto Station is mainly for pick-up and drop-off and is not large. If you are coming by car, please park your car at Shimabara Station and take the train.
Unzen-Ariake Slow Line Ticket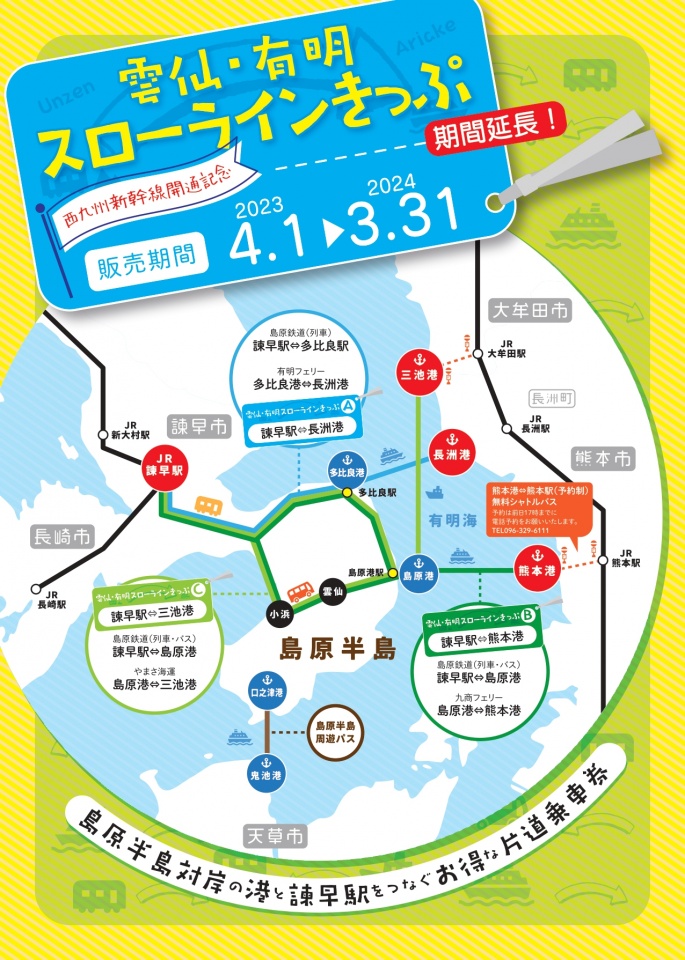 In conjunction with the opening of the West Kyushu Shinkansen on September 23, 2022, we are selling "Unzen-Ariake Slow Line Ticket," a special one-way ticket that connects a route in the Shimabara Peninsula with a Shinkansen station, for the purpose of forming a wide area tour route connecting the West Kyushu Shinkansen and Kyushu Shinkansen.
The ticket is valid for two days and allows you to get on and off any number of times in the same direction on the Shimabara Railway section, making it very convenient for lodging and sightseeing in the Shimabara Peninsula.
Please take advantage of these tickets.
Information for Discount Train Coupon Tickets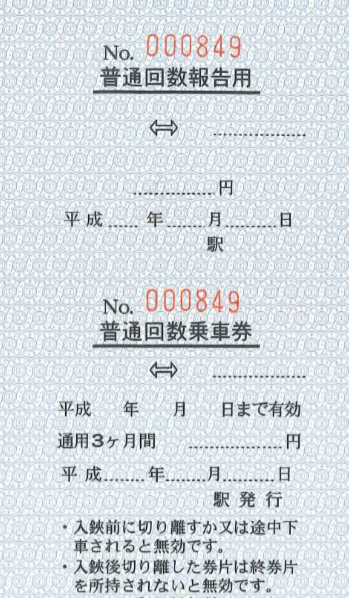 Train Coupon Tickets
11 rides
Price = One-way fare x 10 tickets
(Ex.) Price between Isahaya Station and Shimabara Station is...
1,460 x 10 = ¥14,600.

Sold at:
Isahaya Station
Hon-Isahaya Station
Aino Station (6:30 AM to 11:20 AM, except for Sundays and holidays)
Taira Station
Shimabara Station
Shimabarafunatsu Station
Isahaya Office